I'm not gonna care what you're gonna say. I'm not a drunkard, and by medical definition, drinking 3 pints of beer occasionally doesn't make you an alcoholic. So with that, we ventured Movida in Sunway Giza after the second time we were turned away by Tao Buffet, AGAIN. [Gosh, I don't understand why is everyone loving this place?! I can, but you can't! HAHAHA]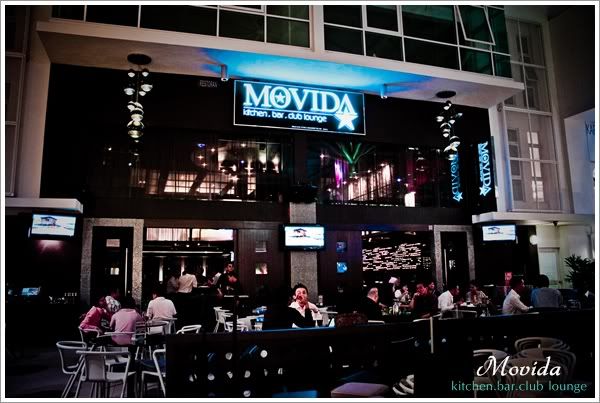 So Movida.

Loved the place. We were greeted by a nice waiter, who attended to our needs swiftly... [or maybe because it was still early when we were there.] There wasn't much around at the time we were there, it was barely 6pm on a weekday.

It was a weekday, and it was still quite early. We of course, had the happy hour promotion, where we get 2 pints free when we order one. It was well, an awesome deal!


So I got us Tetley's English. Have never tried it before, so the idea was, to give all the different beers a go and see what's top of my favourite list. Tetley's English came out alright, there was no funny after taste or what nots. It wasn't sweet like Kilkenny's. Nor was it as smooth as Eldinger's. But it was alright...


We had chicken wings and some finger foods. Forgot what the finger foods was, but it was Mexican if I'm right. Chicken wings were pretty delicious, tinge of spicy but not too hot. And we finished our finger foods too soon before we could finished our beers. Which was why...


We had our second serving of buy 1 free 2 beers... Hoegaarden White something... Probably the same as Hoegaarden itself. I personally think it's becoming the commonest beers in town these days. It's basically as cheap as Heineken and Tiger... And no more the premium imported beer like what it was a year ago. Which is, to me, a great thing! LOL Premium brands at a local price.


Now food and beverages aside, I personally think Movida is a bit crowded on the ground floor. But the high ceiling makes it pretty airy. Just that, well, like most bars, there's no restriction to smoking. Which, can be quite a pain in the arse, as you can't complain much about it.

But otherwise, I think it's got a great concept with the bar in the centre of the premise. Not great GREAT. But at least you can see the other end from this end. Unlike Hard Rock cafe, where you're in this end and you have no idea your friend's sitting at the other side because the liqueur shelf blocked it all. Hmmm okay, not relevant. Whatever...

Maybe I got a bit tipsy from 3 pints of beer.

La la la... Raise your glass to AUGUST! Yoooohoooo!